2013
03.19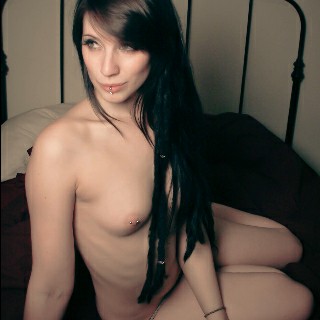 Hi, My name is Brookelynne Briar. I'm a 22-year old, alternative girl with green eyes, blue-black hair and dreadlocks. I am a student by day, a cam girl by night, part-time hedonist and a full-time perv, on the path of enlightenment through chronic masturbation. I am very pro-kink and open-minded. I'm a switch and most happy when I get to play both sides of the field. I love to watch people getting off – so as long as you are having a good time, I am having a great time 😉
WHAT TO EXPECT IN FREE CHAT:
In Free I want to get to know you, tease you, and find out what makes you tick. Also this is your chance to get to know me. Feel free to ask me questions, hang out, relax and be a little naughty. I love showing Tits for Tips. But I do not show any pink or do any penetration in Free Chat
WHAT TO EXPECT IN GROUP CHAT ROOM:
In Group Chat, I get naked and naughty! Full frontal nudity, dirty talk, spreading, ass to cam, and finger-fucking. If we have enough people joining the show, I will break out the toys for extra entertainment.
WHAT TO EXPECT IN VIP:
In VIP I am all yours and the sky is the limit! Role plays and costumes, masturbation with toys, BDSM, spanking, flogging, clamps, toys, forced orgasms, facials, anal, finger-fucking, foot fetish, balloons and inflatables, WAM (wet and messy), male humiliation, small-penis humiliation..and so much more. This is where the action really happens
I am also a big geek. My heart flutters for H.P. Lovecraft, I am obsessed with American McGee's – Alice, and I still believe that Final Fantasy I and VII are the best games out of the entire series. Sexy yet? I adore guys who have a sense of humor, guys who can make me laugh, and I absolutely love getting to know people one-on-one. I want to know what turns you on and tweaks your imagination. Tell me about your favorite book, your favorite movie; tell me your fantasies, tell me about…you.